November 4, 2021
Growth 'model'
Image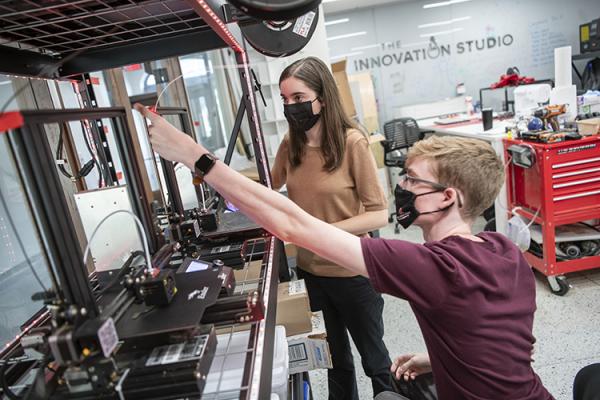 Description
Caroline's accessibility startup blossomed as she leveraged the resources and connections Ohio State offers.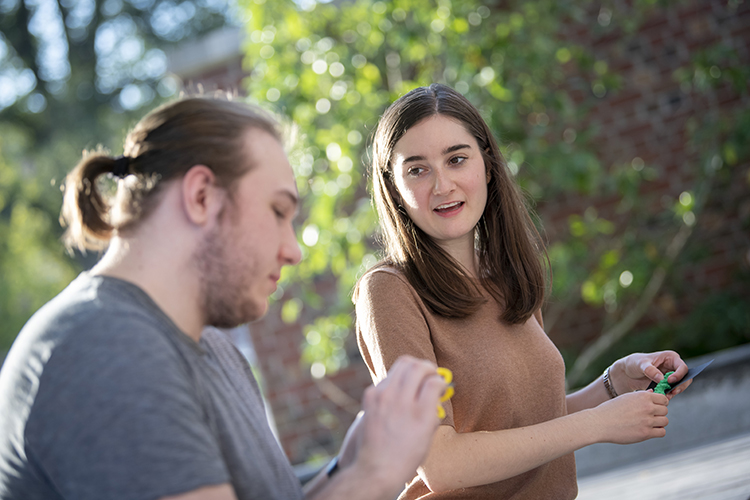 As a freshman at Ohio State, Caroline Karbowski, right, found the support to launch her nonprofit company See3D. Karbowski, now a senior, and Garrett Carder, left, a senior computer science major, first pitched the idea for See3D to Ohio State's Innovation Studio. Carder is still on the See3D Board and is a student manager at the Innovation Studio.
Caroline Karbowski's first breakthrough at Ohio State started with a simple conversation with a new friend in a dining hall.
The conversation grew out of need and curiosity -- she needed to find someone outside her science major to help pitch her See3D startup idea to Ohio State's Innovation Studio, a maker space housed in Ohio State's College of Nursing and open to all students, faculty, and staff.
At the studio, she saw an opportunity to fund and sustain her organization. Until that point, See3D had been a high school project in which she 3D printed and distributed models of everything from Disney castles to snowflakes to butterflies to those who are blind or have low vision. Those who are visually impaired use the models to form their own observations without relying on other people's descriptions.
But to make that initial pitch to the Innovation Studio, she needed someone outside biology, her field of study, because the studio mandates interdisciplinary connections.
So it was off to the dining hall, where she met Garrett Carder, a computer science major, and inspired him with her ideas for See3D. He joined her pitch and even remodeled the company's website.
One pitch later, Karbowski and her first team member had seed funding along with what became ongoing guidance and advice the Innovation Studio. It was the beginning of an impressive journey.
"It's been an adventure in networking and exploring the opportunities that have arisen," said Karbowski, a senior biology major with minors in American Sign Language and chemistry and the president of Ohio State's Deaf-Hearing Club (DHOSU). "Ohio State has given me the support and connections to continue to pursue my interests in accessibility, which I didn't even know was a career path until I came here."
Four years after that initial pitch, See3D is an ever-expanding nonprofit organization with a large org chart of team members from Ohio State and throughout the nation. Collaborators and partners from other countries such as Germany and France also have joined the mission. 
It's a company that promotes accessibility in many ways, including those 3D-printed models, of which her team has distributed over 1,400 in 24 states and 10 countries.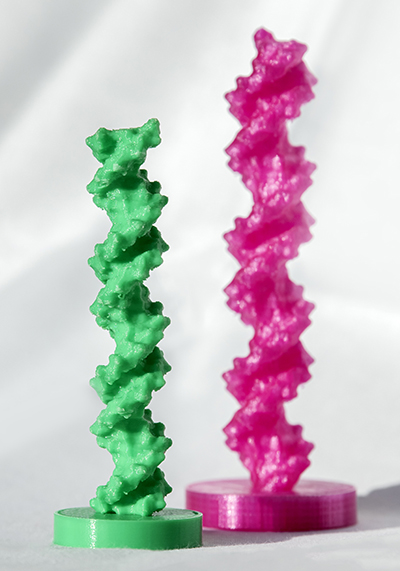 This 3D-printed model helps students who are blind understand the DNA double helix. DNA is a common biology topic from middle school to college, but without models like these, students who are blind or with low visibility have to rely on the observations and descriptions of others.
Karbowski's most popular models center on human anatomy, which has welcomed more blind students to pursue STEM subjects.
"What Caroline and See3D does is important in the way we approach education and science in general," said Kayden Gill, a senior health sciences major and president of Buckeyes for Accessibility, who also has low vision. "The whole question, 'what do you want to be when you grow up' is based off options presented to you. Blind children don't find a lot of themselves in the STEM community. So introducing ways that can get them interested at an early age shapes that mental image of themselves and opens a lot of doors."
Why Ohio State?
In sixth grade, Karbowski taught herself braille so she could read on car rides without getting dizzy. She fell in love with braille and discovered other ways to use it. One of those ways was using braille on tactile models for the blind.
In high school, she learned how to use 3D printers to make those models and created her See3D project, distributing the models to people around Cincinnati and displaying them at maker and tech showcases.
But to take See3D to another level, Karbowski needed a university that offered the right mix of education, people and resources — specifically 3D printing and startup support.  
Ohio State was a bull's-eye.
One of the people she met in high school was Tiffany Wild an Ohio State assistant professor in the Department of Teaching and Learning who researches access and equity, including 3D printing for the blind and visually impaired.
"We talked about all the possibilities Ohio State offered and how those experiences could impact the trajectory of her career," Wild said. "I'm blown away with everything she's done. She took full advantage of everything Ohio State has to offer.
"She's well on her way to really impacting the world in ways I don't' even think she can fathom right now."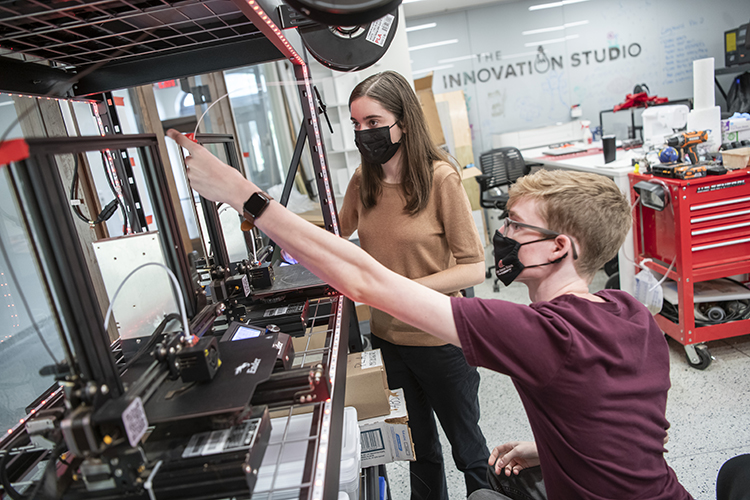 Karbowski's most popular models center on human anatomy, which has welcomed more blind students to pursue STEM subjects. Kayden Gill, a senior health sciences major and president of Buckeyes for Accessibility, who also has low vision believes efforts like See3D and Buckeyes for Accessibility opens a lot of doors to the STEM community.
Startup support
More than anything, Karbowski wanted 3D printing and support for startups. She found both at the Innovation Studio, which she visited on a tour of campus.
"After visiting it," she recalled, "I was ecstatic."
After her first pitch and the subsequent funding for See3D, the studio also began guiding Karbowski in building and sustaining the organization.  
"When we started the Innovation Studio, we wanted to be the answer to the question, 'I have a great idea. I just don't know where to begin,'" said Tim Raderstorf, Innovation Studio founder and chief innovation officer in the College of Nursing.
Last year, Raderstorf nominated Karbowski for Ohio State's Next Generation Innovator of the Year, which she won.
"Caroline came to Ohio State with impact in mind," he said. "That level of positive ambition is what we look for in all our students."
Along the way, she's accepted opportunities to speak and write about her organization and accessibility in general. Karbowski is a regular participant at SciAccess, an annual conference at Ohio State started by former student and former President's Prize winner Anna Voelker to promote equity and inclusion in STEM.
And while being a student and a CEO keeps her hustling, the payoff is everything to Karbowski.
"I get so excited when a blind student tells me they want to pursue biology because they touched the DNA model and now they're excited about DNA," Karbowski said. "We're not just a service that provides models — we work on connecting the community and finding ways the world can be more accessible for blind people."
Original Article:
---