March 10, 2023
Astronomy Wins at Denman Undergraduate Research Forum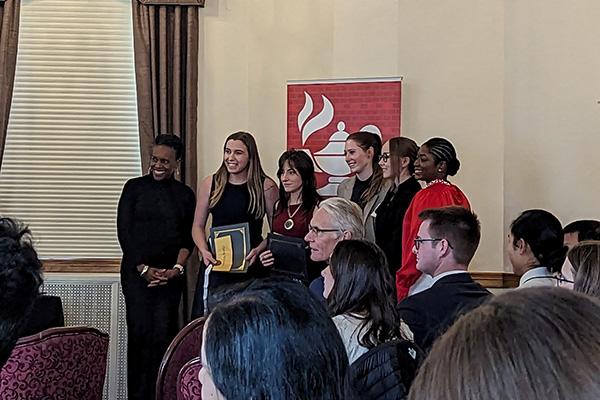 Sydney Petz wins third place in Earth & Beyond at the Denman Undergraduate Research Forum. Caitlin O'Brien wins an Honorable Mention in the same category. This is an incredible achievement and showcases their dedication to research and their ability to communicate their own science.
The Denman Forum provides an opportunity for graduating student researchers to share their research endeavors with the broader community.  This is our only competitive poster forum in which winners are recognized in each category as determined by faculty, staff, and Denman alumni reviewers.  Students will be reviewed on their ability to communicate their research process and results effectively in both their written poster content and accompanying oral presentation.  During the Denman Forum, we celebrate not only the hard work of these students, but also the dedication of their faculty research mentors. The Richard J. and Martha D. Denman Undergraduate Research Forum is an annual event that showcases research projects from the brightest undergraduates at Ohio State. Since 1995, the Denman family has supported this forum, and continues to promote Ohio State as alumni.
To learn more about the Denman Forum click here.
---