March 31, 2020
Astronomy postdoc and alumnus receive NASA Hubble Fellowships
Image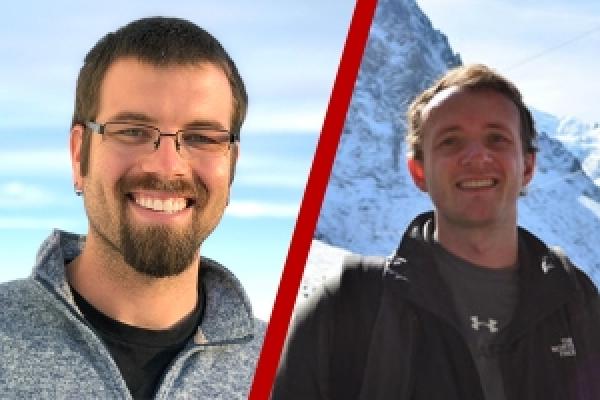 Description
Department of Astronomy Visiting Scholar David Martin and 2017 Ph.D. graduate Tom Holoien have been selected as fellows for the 2020 NASA Hubble Fellowship Program (NHFP), which enables outstanding postdoctoral scientists to pursue independent research across NASA Astrophysics using theory, observation, experimentation or instrument development.
Each of the 24 fellowships awarded this year provides the recipient up to three years of support. Once selected, fellows are named to one of three sub-categories corresponding to three broad scientific questions NASA has sought to answer about the universe: "How does the universe work?" (Einstein Fellows), "How did we get here?" (Hubble Fellows), and "Are we alone?" (Sagan Fellows).
"I was pretty surprised (to receive the fellowship)," Martin said. "I had been rejected for this thing three times prior, and this was my last crack at it. The difference was that even before opening the email, I could see that the first line of it was 'Congratulations.' I was pretty stoked."
Martin will continue his research at Ohio State as a Sagan Fellow. His work will be centered on searching for elusive circumbinary super-Earths, or planets between Earth and Neptune in size that orbit two stars. Finding — or perhaps not finding — circumbinary super-Earths could help solve broader questions of how planets form. 
"Sometimes as a postdoc, one can feel rushed to get smaller projects finished because timelines are short, but I am in a very lucky position now to have several years worth of funding to cover this," said Martin, who has also received earlier support from the Swiss National Science Foundation. "The Sagan just tops it all off and will really solidify this line of research. I also can't imagine a place better to do it than the Ohio State astronomy department; the atmosphere there is incredible."
Holoien, awarded an Einstein Fellowship, will focus his research on finding and studying "tidal disruption events," which occur when a star gets torn apart by the intense gravitational forces of a supermassive black hole. He said the idea is to use them as probes of black holes that are otherwise difficult to study because black holes don't normally emit any radiation researchers can observe.
Holoien will conduct his NHFP Fellowship at the Carnegie Observatories, where he is currently a Carnegie Fellow. 
"I could not be happier," Holoien said. "The opportunity to stay at Carnegie, where I have been able to do great work over the last few years, while also becoming part of the NHFP community, is really a dream come true. I'm hoping this will enable me to do some great work over the next few years and go on to a long-term position in academia."
---