Image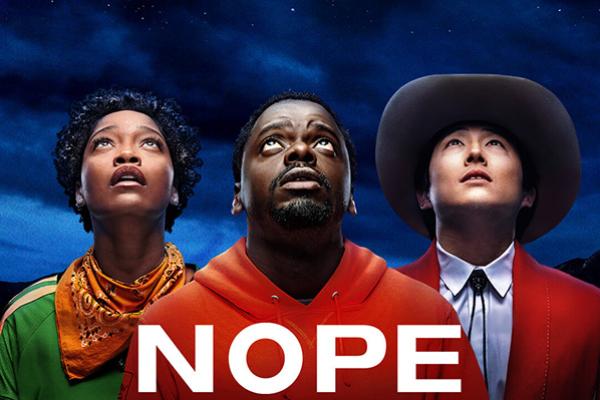 January 25, 2023
8:00PM - 9:00PM
Location
ONLINE: Zoom Webinar
Date Range
Add to Calendar
2023-01-25 20:00:00
2023-01-25 21:00:00
Monthly Movie Night – Nope - Postponed until Spring
Join the Ohio State Department of Astronomy and Center for Cosmology and AstroParticle Physics (CCAPP) for October's Monthly Movie Night: Science Fact vs. Science Fiction panel discussion. We will be talking Jordan Peele's "Nope" -- science fiction and horror together! We will be talking not just about the alien and how it could have evolved, but also about how the music in the film is an interesting blend of westerns, horror, sci-fi that works really well for the film and how the film discusses the importance of Black contributions to filmmaking.  When TBA - Spring 2023 How to Join To participate in this event,  Register for free using the button below. Registration is required in order to attend. Feel free to watch Nope, at home if you need a refresher, the film can be rented on many online platforms, including Amazon, Google Play, and YouTube. Come ready with questions you may have about the movie. This webinar is hosted on Zoom and we are making every effort to include ASL interpreting and live CART captioning. Panelists: TBA Moderator: TBA, Astronomer - The Ohio State University
ONLINE: Zoom Webinar
OSU ASC Drupal 8
ascwebservices@osu.edu
America/New_York
public
Date Range
Add to Calendar
2023-01-25 20:00:00
2023-01-25 21:00:00
Monthly Movie Night – Nope - Postponed until Spring
Join the Ohio State Department of Astronomy and Center for Cosmology and AstroParticle Physics (CCAPP) for October's Monthly Movie Night: Science Fact vs. Science Fiction panel discussion. We will be talking Jordan Peele's "Nope" -- science fiction and horror together! We will be talking not just about the alien and how it could have evolved, but also about how the music in the film is an interesting blend of westerns, horror, sci-fi that works really well for the film and how the film discusses the importance of Black contributions to filmmaking.  When TBA - Spring 2023 How to Join To participate in this event,  Register for free using the button below. Registration is required in order to attend. Feel free to watch Nope, at home if you need a refresher, the film can be rented on many online platforms, including Amazon, Google Play, and YouTube. Come ready with questions you may have about the movie. This webinar is hosted on Zoom and we are making every effort to include ASL interpreting and live CART captioning. Panelists: TBA Moderator: TBA, Astronomer - The Ohio State University
ONLINE: Zoom Webinar
Department of Astronomy
astronomy@osu.edu
America/New_York
public
Description
Join the Ohio State Department of Astronomy and Center for Cosmology and AstroParticle Physics (CCAPP) for October's Monthly Movie Night: Science Fact vs. Science Fiction panel discussion.
We will be talking Jordan Peele's "Nope" -- science fiction and horror together! We will be talking not just about the alien and how it could have evolved, but also about how the music in the film is an interesting blend of westerns, horror, sci-fi that works really well for the film and how the film discusses the importance of Black contributions to filmmaking. 
When
TBA - Spring 2023
How to Join
To participate in this event, 
Register for free using the button below. Registration is required in order to attend.
Feel free to watch Nope, at home if you need a refresher, the film can be rented on many online platforms, including Amazon, Google Play, and YouTube.
Come ready with questions you may have about the movie.
This webinar is hosted on Zoom and we are making every effort to include ASL interpreting and live CART captioning.
Panelists:
Moderator:
TBA, Astronomer - The Ohio State University
Advanced
Events Filters:
---