Image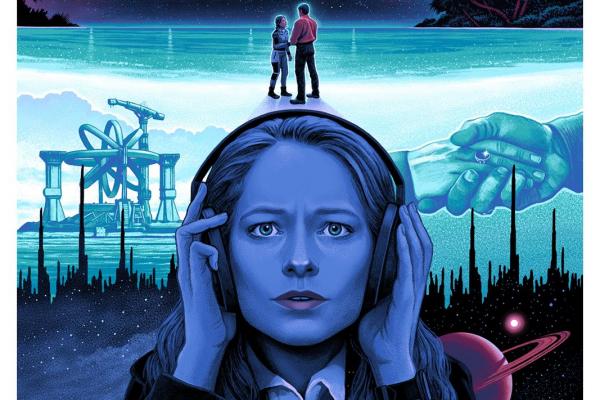 January 27, 2021
8:00PM - 9:00PM
Location
ONLINE: Zoom Webinar
Date Range
Add to Calendar
2021-01-27 21:00:00
2021-01-27 22:00:00
Monthly Movie Night: Contact - Science Fiction vs Science Fact
Join the Ohio State Department of Astronomy and Center for Cosmology and AstroParticle Physics (CCAPP) for an online panel discussion on the science concepts featured in the film Contact! When Wednesday, January 27, from 8:00-9:00 PM EST How to Join To participate in this event,  Register for free using the button below or clicking here Registration is required in order to attend. Watch Contact at home. The film can be rented on many online platforms, including Amazon, Google Play, and YouTube. Come ready on January 27, with your Contact science questions! This webinar is hosted on Zoom and we are making every effort to include ASL interpreting and live CART captioning. Panelists: Dr. Amy Sardone - Radio Astronomer, Post Doctoral Fellow, Ohio State Dr. David Stark - Radio Astronomer, Post Doctoral Fellow, Haverford College Laura Arenschield - Journalist, Senior Science Writer,  Ohio State Moderator: Jennifer Johnson - Professor of Astronomy at The Ohio State University
ONLINE: Zoom Webinar
OSU ASC Drupal 8
ascwebservices@osu.edu
America/New_York
public
Date Range
Add to Calendar
2021-01-27 20:00:00
2021-01-27 21:00:00
Monthly Movie Night: Contact - Science Fiction vs Science Fact
Join the Ohio State Department of Astronomy and Center for Cosmology and AstroParticle Physics (CCAPP) for an online panel discussion on the science concepts featured in the film Contact! When Wednesday, January 27, from 8:00-9:00 PM EST How to Join To participate in this event,  Register for free using the button below or clicking here Registration is required in order to attend. Watch Contact at home. The film can be rented on many online platforms, including Amazon, Google Play, and YouTube. Come ready on January 27, with your Contact science questions! This webinar is hosted on Zoom and we are making every effort to include ASL interpreting and live CART captioning. Panelists: Dr. Amy Sardone - Radio Astronomer, Post Doctoral Fellow, Ohio State Dr. David Stark - Radio Astronomer, Post Doctoral Fellow, Haverford College Laura Arenschield - Journalist, Senior Science Writer,  Ohio State Moderator: Jennifer Johnson - Professor of Astronomy at The Ohio State University
ONLINE: Zoom Webinar
Department of Astronomy
astronomy@osu.edu
America/New_York
public
Description
Join the Ohio State Department of Astronomy and Center for Cosmology and AstroParticle Physics (CCAPP) for an online panel discussion on the science concepts featured in the film Contact!
When
Wednesday, January 27, from 8:00-9:00 PM EST
How to Join
To participate in this event, 
Register for free using the button below or clicking here Registration is required in order to attend.
Watch Contact at home. The film can be rented on many online platforms, including Amazon, Google Play, and YouTube.
Come ready on January 27, with your Contact science questions!
This webinar is hosted on Zoom and we are making every effort to include ASL interpreting and live CART captioning.
Panelists:
Dr. Amy Sardone - Radio Astronomer, Post Doctoral Fellow, Ohio State
Dr. David Stark - Radio Astronomer, Post Doctoral Fellow, Haverford College
Laura Arenschield - Journalist, Senior Science Writer,  Ohio State
Moderator:
Jennifer Johnson - Professor of Astronomy at The Ohio State University
Advanced
Events Filters:
---