Image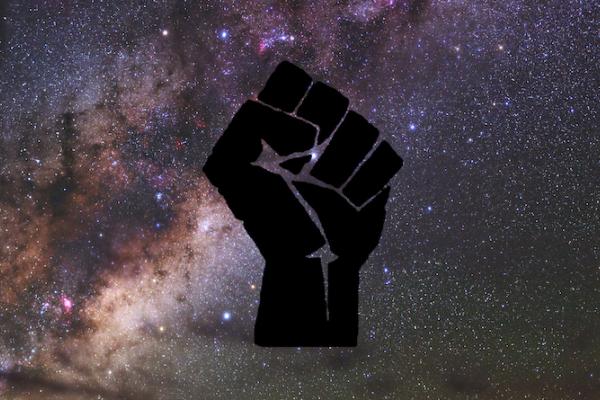 June 20 - June 26, 2021
3:45PM - 11:59PM
Location
ONLINE: Zoom Webinar
Date Range
Add to Calendar
2021-06-20 15:45:00
2021-06-26 23:59:00
Black in Astro Week 2021
What is Black in Astro?  Is a team of Black students and professionals working to amplify and celebrate the Black experience in Space sciences, a movement founded by Ashley Lindalia Walker.  Join us for a week, June 20 - June 26, full of fun events, panels, and giveaways. Be sure to follow #BlackInAstro on social media to stay up to date. Find out more at blackinastro.com. Schedule of Events SUNDAY JUNE 20 — #BLACKINASTROGRANDSLAM — 4:00-6:00 pm EST Come meet the Black In Astro Team, watch performances, and B.Y.O.B (Bring Your Own Beverage) for a chill and fun night with prizes.  4:00-6:00 pm EST: register to attend here, register to perform here MONDAY JUNE 21 — #BLACKXPLORATION DAY — 6:00-7:30 pm EST Celebrate all things Aerospace, Astronauts, Aeronautics, Astronautics, and more! Share your stories/research with the hashtags #BlackInAeroRollCall & #BlackXploration 6:00-7:30pm EST: Launching a Career Into Space: A Discussion about Aerospace Careers/Journey. A webinar discussion about aerospace careers/journeys. Featuring: Dr. Rhonda Lyons, Cadence Payne, Jean Luis Suazo Betancourt (M.S.A.E. 2019), and Dr. Lionel Pittman.  Moderator: Naia Butler-Craig (Current AE Ph.D. student) Registration Link Here Enter the giveaway for a chance to win one of three lego sets for kids! TUESDAY JUNE 22 — #BLACKTOTHEFUTURE Celebrate with us as we dedicate this day to afrofuturism & art featuring special prizes! Join us as we celebrate the life of Afrofuturist and author Octavia Butler.  Submit your astro-themed artwork for a chance to win some amazing prizes from ceramic artist, Amy Rae Hill, a $25.00 gift card from STARtoralist, and postcards from Dr. Sian Proctor. Enter your astro-themed artwork here Enter the giveaway for a chance to win one of two copies of Ytasha Womack's book - Afrofuturism 12:00 - 1:00 pm EST: Alien vs Predator/SKA Telescope Live Discussion with Dr. Tana Joseph Watch here (co-hosted by The SETI Institute) WEDNESDAY JUNE 23 — #ASTROWORLD on Twitter and Instagram Join us for an out-of-this-world day dedicated to exoplanets, atmospheres, planet formation, and planetary sciences. Use the hashtag #AstroWorldRollCall to introduce yourself. Join us on Instagram and Twitter as we take over the SETI Twitter and Instagram pages for a day full of fun facts and trivia THURSDAY JUNE 24 — #BLACKWHOLE on Instagram and Twitter Join us for a day filled with poetry and featuring Black Holes, Dark Matter, Galaxies and Gravitational Waves! Use the hashtag #BlackWholeRollCall to introduce yourself and share your research. Summarize research using a haiku for a chance to win a $30.00 gift card and other special prizes Join our founder and co-organizer Ashley Lindalia & Dakotah Tyler for a special SETI Live event! FRIDAY JUNE 25 — #ALLTHESTARS — Instagram and Twitter All the stars are closer. Join us as we celebrate Black influences on the Black Space Family Members and let's talk about some ISM and stars Use the hashtag #AllTheStarsRollCall to introduce yourself and tell your story of who influenced you in the space sciences SATURDAY JUNE 26 — #BLACKSPACE on Instagram and Twitter Let's talk about Black scicommers and educators. Join us for a day filled with science communication knowledge Use the hashtag #BlackSpaceRollCall to introduce yourself Special video premiere Join us for trivia night with a special prize giveaway
ONLINE: Zoom Webinar
OSU ASC Drupal 8
ascwebservices@osu.edu
America/New_York
public
Date Range
Add to Calendar
2021-06-20 15:45:00
2021-06-26 23:59:00
Black in Astro Week 2021
What is Black in Astro?  Is a team of Black students and professionals working to amplify and celebrate the Black experience in Space sciences, a movement founded by Ashley Lindalia Walker.  Join us for a week, June 20 - June 26, full of fun events, panels, and giveaways. Be sure to follow #BlackInAstro on social media to stay up to date. Find out more at blackinastro.com. Schedule of Events SUNDAY JUNE 20 — #BLACKINASTROGRANDSLAM — 4:00-6:00 pm EST Come meet the Black In Astro Team, watch performances, and B.Y.O.B (Bring Your Own Beverage) for a chill and fun night with prizes.  4:00-6:00 pm EST: register to attend here, register to perform here MONDAY JUNE 21 — #BLACKXPLORATION DAY — 6:00-7:30 pm EST Celebrate all things Aerospace, Astronauts, Aeronautics, Astronautics, and more! Share your stories/research with the hashtags #BlackInAeroRollCall & #BlackXploration 6:00-7:30pm EST: Launching a Career Into Space: A Discussion about Aerospace Careers/Journey. A webinar discussion about aerospace careers/journeys. Featuring: Dr. Rhonda Lyons, Cadence Payne, Jean Luis Suazo Betancourt (M.S.A.E. 2019), and Dr. Lionel Pittman.  Moderator: Naia Butler-Craig (Current AE Ph.D. student) Registration Link Here Enter the giveaway for a chance to win one of three lego sets for kids! TUESDAY JUNE 22 — #BLACKTOTHEFUTURE Celebrate with us as we dedicate this day to afrofuturism & art featuring special prizes! Join us as we celebrate the life of Afrofuturist and author Octavia Butler.  Submit your astro-themed artwork for a chance to win some amazing prizes from ceramic artist, Amy Rae Hill, a $25.00 gift card from STARtoralist, and postcards from Dr. Sian Proctor. Enter your astro-themed artwork here Enter the giveaway for a chance to win one of two copies of Ytasha Womack's book - Afrofuturism 12:00 - 1:00 pm EST: Alien vs Predator/SKA Telescope Live Discussion with Dr. Tana Joseph Watch here (co-hosted by The SETI Institute) WEDNESDAY JUNE 23 — #ASTROWORLD on Twitter and Instagram Join us for an out-of-this-world day dedicated to exoplanets, atmospheres, planet formation, and planetary sciences. Use the hashtag #AstroWorldRollCall to introduce yourself. Join us on Instagram and Twitter as we take over the SETI Twitter and Instagram pages for a day full of fun facts and trivia THURSDAY JUNE 24 — #BLACKWHOLE on Instagram and Twitter Join us for a day filled with poetry and featuring Black Holes, Dark Matter, Galaxies and Gravitational Waves! Use the hashtag #BlackWholeRollCall to introduce yourself and share your research. Summarize research using a haiku for a chance to win a $30.00 gift card and other special prizes Join our founder and co-organizer Ashley Lindalia & Dakotah Tyler for a special SETI Live event! FRIDAY JUNE 25 — #ALLTHESTARS — Instagram and Twitter All the stars are closer. Join us as we celebrate Black influences on the Black Space Family Members and let's talk about some ISM and stars Use the hashtag #AllTheStarsRollCall to introduce yourself and tell your story of who influenced you in the space sciences SATURDAY JUNE 26 — #BLACKSPACE on Instagram and Twitter Let's talk about Black scicommers and educators. Join us for a day filled with science communication knowledge Use the hashtag #BlackSpaceRollCall to introduce yourself Special video premiere Join us for trivia night with a special prize giveaway
ONLINE: Zoom Webinar
Department of Astronomy
astronomy@osu.edu
America/New_York
public
Description
Is a team of Black students and professionals working to amplify and celebrate the Black experience in Space sciences, a movement founded by Ashley Lindalia Walker. 
Join us for a week, June 20 - June 26, full of fun events, panels, and giveaways. Be sure to follow #BlackInAstro on social media to stay up to date. Find out more at blackinastro.com.
SUNDAY JUNE 20 — #BLACKINASTROGRANDSLAM — 4:00-6:00 pm EST
Come meet the Black In Astro Team, watch performances, and B.Y.O.B (Bring Your Own Beverage) for a chill and fun night with prizes. 
MONDAY JUNE 21 — #BLACKXPLORATION DAY — 6:00-7:30 pm EST
Celebrate all things Aerospace, Astronauts, Aeronautics, Astronautics, and more! Share your stories/research with the hashtags #BlackInAeroRollCall & #BlackXploration
6:00-7:30pm EST: Launching a Career Into Space: A Discussion about Aerospace Careers/Journey. A webinar discussion about aerospace careers/journeys.

Featuring: Dr. Rhonda Lyons, Cadence Payne, Jean Luis Suazo Betancourt (M.S.A.E. 2019), and Dr. Lionel Pittman. 

Moderator: Naia Butler-Craig (Current AE Ph.D. student)

Registration Link Here

Enter the giveaway for a chance to win one of three lego sets for kids!
TUESDAY JUNE 22 — #BLACKTOTHEFUTURE
Celebrate with us as we dedicate this day to afrofuturism & art featuring special prizes! Join us as we celebrate the life of Afrofuturist and author Octavia Butler. 
Submit your astro-themed artwork for a chance to win some amazing prizes from ceramic artist, Amy Rae Hill, a $25.00 gift card from STARtoralist, and postcards from Dr. Sian Proctor.

Enter your astro-themed artwork here

Enter the giveaway for a chance to win one of two copies of Ytasha Womack's book - Afrofuturism

12:00 - 1:00 pm EST: Alien vs Predator/SKA Telescope Live Discussion with Dr. Tana Joseph Watch here (co-hosted by The SETI Institute)
WEDNESDAY JUNE 23 — #ASTROWORLD on Twitter and Instagram
Join us for an out-of-this-world day dedicated to exoplanets, atmospheres, planet formation, and planetary sciences. Use the hashtag #AstroWorldRollCall to introduce yourself.
THURSDAY JUNE 24 — #BLACKWHOLE on Instagram and Twitter
Join us for a day filled with poetry and featuring Black Holes, Dark Matter, Galaxies and Gravitational Waves! Use the hashtag #BlackWholeRollCall to introduce yourself and share your research.
Summarize research using a haiku for a chance to win a $30.00 gift card and other special prizes

Join our founder and co-organizer Ashley Lindalia & Dakotah Tyler for a special SETI Live event!
FRIDAY JUNE 25 — #ALLTHESTARS — Instagram and Twitter
All the stars are closer. Join us as we celebrate Black influences on the Black Space Family Members and let's talk about some ISM and stars
Use the hashtag #AllTheStarsRollCall to introduce yourself and tell your story of who influenced you in the space sciences
SATURDAY JUNE 26 — #BLACKSPACE on Instagram and Twitter
Let's talk about Black scicommers and educators. Join us for a day filled with science communication knowledge
Use the hashtag #BlackSpaceRollCall to introduce yourself

Special video premiere

Join us for trivia night with a special prize giveaway
Events Filters:
---