Image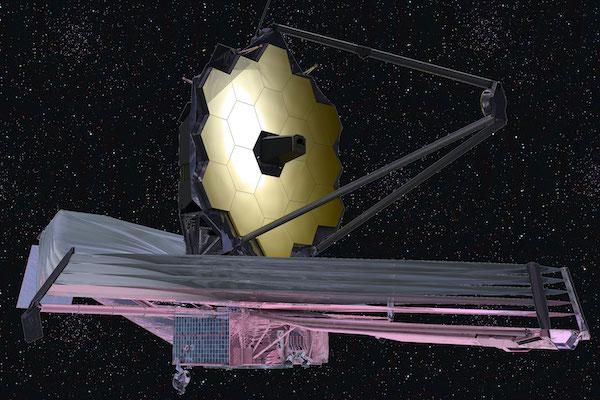 October 21, 2021
8:00PM - 9:00PM
Location
ONLINE: Zoom Webinar
Date Range
Add to Calendar
2021-10-21 20:00:00
2021-10-21 21:00:00
Friends of Ohio State Astronomy & Astrophysics - The James Webb Space Telescope - Fall 2021
Registration Information Please register and join the Friends of Ohio State Astronomy & Astrophysics (FOSAA) for our Fall 2021 Event on Thursday, October 21 at 8:00 pm! This event will highlight the James Webb Space Telescope (JWST), which is scheduled for launch in December 2021. The Program The speakers will include JWST NIRSpec Instrument Scientist (and OSU graduate alumna) Dr. Susan Kassin, OSU Professor Adam Leroy, and OSU graduate student Ms. Caprice Phillips. Dr. Kassin will present an introduction to JWST and describe the science goals of some of the deepest exposures that JWST will take in its first year, Professor Leroy will describe how he will use JWST to study the birth of stars in nearby galaxies, and Ms. Phillips will describe the search for signs of life in the atmospheres of planets around other stars. These presentations will be at a level accessible to all, and there will be plenty of time to ask questions of these experts. Accomodations If you require accommodation such as live captioning or interpretation to participate in this webinar, please contact Prof. Paul Martini at martini.10@osu.edu or 614 292-8632. Requests made two weeks before an event will generally allow us to provide seamless access, but the department will make every effort to meet all requests. Join FOSAA All FOSAA events are advertised via the FOSAA e-mail list.  If you or someone you know would like to be added to this list, please email Prof. Paul Martini or click here to sign up for the list yourself. JWST image credit: NASA
ONLINE: Zoom Webinar
OSU ASC Drupal 8
ascwebservices@osu.edu
America/New_York
public
Date Range
Add to Calendar
2021-10-21 20:00:00
2021-10-21 21:00:00
Friends of Ohio State Astronomy & Astrophysics - The James Webb Space Telescope - Fall 2021
Registration Information Please register and join the Friends of Ohio State Astronomy & Astrophysics (FOSAA) for our Fall 2021 Event on Thursday, October 21 at 8:00 pm! This event will highlight the James Webb Space Telescope (JWST), which is scheduled for launch in December 2021. The Program The speakers will include JWST NIRSpec Instrument Scientist (and OSU graduate alumna) Dr. Susan Kassin, OSU Professor Adam Leroy, and OSU graduate student Ms. Caprice Phillips. Dr. Kassin will present an introduction to JWST and describe the science goals of some of the deepest exposures that JWST will take in its first year, Professor Leroy will describe how he will use JWST to study the birth of stars in nearby galaxies, and Ms. Phillips will describe the search for signs of life in the atmospheres of planets around other stars. These presentations will be at a level accessible to all, and there will be plenty of time to ask questions of these experts. Accomodations If you require accommodation such as live captioning or interpretation to participate in this webinar, please contact Prof. Paul Martini at martini.10@osu.edu or 614 292-8632. Requests made two weeks before an event will generally allow us to provide seamless access, but the department will make every effort to meet all requests. Join FOSAA All FOSAA events are advertised via the FOSAA e-mail list.  If you or someone you know would like to be added to this list, please email Prof. Paul Martini or click here to sign up for the list yourself. JWST image credit: NASA
ONLINE: Zoom Webinar
Department of Astronomy
astronomy@osu.edu
America/New_York
public
Description
Registration Information
Please register and join the Friends of Ohio State Astronomy & Astrophysics (FOSAA) for our Fall 2021 Event on Thursday, October 21 at 8:00 pm! This event will highlight the James Webb Space Telescope (JWST), which is scheduled for launch in December 2021.
The Program
The speakers will include JWST NIRSpec Instrument Scientist (and OSU graduate alumna) Dr. Susan Kassin, OSU Professor Adam Leroy, and OSU graduate student Ms. Caprice Phillips. Dr. Kassin will present an introduction to JWST and describe the science goals of some of the deepest exposures that JWST will take in its first year, Professor Leroy will describe how he will use JWST to study the birth of stars in nearby galaxies, and Ms. Phillips will describe the search for signs of life in the atmospheres of planets around other stars. These presentations will be at a level accessible to all, and there will be plenty of time to ask questions of these experts.
Accomodations
If you require accommodation such as live captioning or interpretation to participate in this webinar, please contact Prof. Paul Martini at martini.10@osu.edu or 614 292-8632. Requests made two weeks before an event will generally allow us to provide seamless access, but the department will make every effort to meet all requests.
Join FOSAA
All FOSAA events are advertised via the FOSAA e-mail list.  If you or someone you know would like to be added to this list, please email Prof. Paul Martini or click here to sign up for the list yourself.
JWST image credit: NASA
Advanced
Text
More about the program:
Text
The James Webb Space Telescope
Dr. Susan Kassin will give a brief overview of NASA's James Webb Space Telescope, which is to be launched on December 18, 2021. It is the largest and most complex space telescope to date.  As such, it will help us learn about how our universe came to be, and how planets like our Earth have formed.  I will focus on some of the science that my colleagues and I are planning, which relies on some of the deepest exposures that JWST will take in its first year of operation.
Dr. Kassin is an associate astronomer at the Space Telescope Science Institute in Baltimore, MD. She previously held postdoctoral positions at NASA, Oxford University, the Institut d'Astrophysique de Paris, and UC Santa Cruz. She received her Ph.D. in Astronomy from Ohio State in 2004. 
Text
Watching the Birth of Stars
Professor Leroy will describe how the James Webb Space Telescope opens a fantastic new window to directly witness the birth of stars across the universe. He and his collaborators will use JWST to probe the natal cocoons of dust and gas where stars are formed, as well as peer into the dusty hearts of galaxies to unravel the mysteries of the formation of massive star clusters, which are the most extreme type of star formation in the nearby universe.
Professor Leroy has been at Ohio State since 2015. He was previously a staff member at the National Radio Astronomy Observatory and the Max Planck Institute for Astronomy in Heidelberg, Germany. He received his Ph.D. from UC Berkeley in 2006. 
Text
Text
Text
Detecting Biosignatures in the Atmospheres of Gas Dwarfs with the James Webb Space Telescope
Ms. Phillips will describe her research on gas dwarfs, a type of planet found around other stars that is intermediate in size between the Earth and Neptune. These planets may have hydrogen + nitrogen-dominated atmospheres, which can result in different atmospheric chemistry and different biosignatures (or signs of life). She will describe the potential biosignature molecule ammonia (NH3) and what we can learn from JWST.
Ms. Phillips has a B.S. degree in Physics from the University of Arkansas at Little Rock and an M.A. in Astronomy from the University of Texas at Austin. She has just begun the third year of research toward a Ph.D. in the Astronomy Department at OSU.
Events Filters:
---